Spotting Scope Stand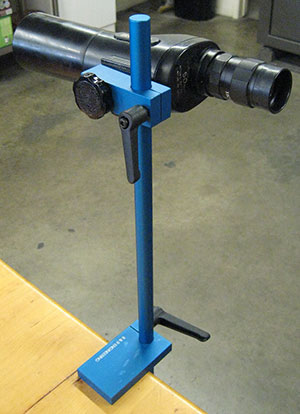 Model SS1 - Bench Mount Spotting Scope Stand
$69.95 + shipping
Extension Rod Sold Separately
$18.00


If Purchased with the stand

$15.00

This bench mount spotting scope stand is fully adjustable for bench thickness and features a 1/4-20 bolt for scope or camera mounting. The scope slides up and down approximately 16" depending on bench thickness with adjustable lever clamps to ensure great ease of use in a wide range of situations. This high quality stand offers a very rigid and stable design made from solid aluminum with a blue anodize finish.
Specifications
With Extension Rod: Adds 20 inches of height / scope slides up and down 36" (depending on bench thickness) with adjustable lever clamps.
1/4-20 bolt for scope or camera mounting
Made From Solid Aluminum With A Blue Anodize Finish
Fully adjustable for bench thickness
Very rigid and stable design
Scope not included. Made in the USA.
Red Dot Sight
Model PFI1- Compact Red Dot Reflex Sight
$299.95
SOPS - Compact Red Dot Reflex Sight
Size does not matter when it comes to the Rapid Reticle SOPS-Compact Reflex Red Dot Sight. This small package optic offers a 5 MOA pulse LED red dot and is as versatile as it is powerful. It can be applied to any type of firearm including handguns, shotguns, rifles and even archery applications. With more than 20 different mounts available, the SOPS-Compact can be depended on in many situations.
It's most popular configuration is tandem with an ACOG or long range optic allowing a shooter a fast CQB option when the situation quickly changes as it often does in combat.
Even battery changes are easy with the flip top cover eliminating the need to dismount the unit for battery replacement. Whether tandem or the primary optic on a handgun, the SOPS-Compact is easy to use, durable, and made to last.
Mounting Bases Not Included
Specifications
5/8"H x 7/8"W laminated parabolic glass screen
6061 T6 aluminum body with matte black anodized finish
Shock, fog, and water proof
5 MOA Pulse LED with auto feature that adjusts intensity to environment ambient light
Unique flip-top battery cover eliminating the need to dismount sight for battery change
Illumination Power: 1632 3V lithium button battery
Battery Life: 8 days at full power, 6 months on Auto with cap, 2 years if turned off when not in use
Weight: 1oz
Length: 1 7/8 inch
Width at base: 1 inch
Temperature Operating Range: 71C to -20C
Capable of "less lethal" applications
Ballistics
NOTE: All types of ammunition can be used with this optic.